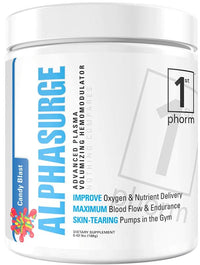 1st Phorm AlphaSurge
Stimulant-free pre-workout supplements are designed to provide energy, focus, and performance-enhancing benefits before a workout without the use of stimulants like caffeine. These supplements typically contain a blend of ingredients such as amino acids, vitamins, minerals, and other compounds that are believed to support exercise performance and muscle function.
Supplement Facts

Serving Size: 1 scoop (9.4g)
Servings Per Container: 20
Vitamin C (as Ascorbic Acid) 500mg 555%
Calcium (as Di-Calcium Malate) (DimaCal) 116mg 9%
Potassium (as Potassium Glycinate Complex) 100mg 2%
Sodium (as Sea Salt) 176mg 7%
Glycersize (65% Glycerol Powder) 2000mg **
Agmatine Sulfate 1000mg **
Alpha GPC 50% (l-alpha-glycerylphosphorylcholine) 600mg **
L-Norvaline 250mg **
Pine Bark Extract 95% 150mg **
Daily Value not yet established
** Percent Daily Values are based on a 2,000 calorie diet. Your Daily Values may be higher or lower based on your calorie needs.
DimaCal is a trademark of Albion Laboratories, Inc.
Other Ingredients:
Citric Acid, Silicon Dioxide, Natural and Artificial Flavors, Sucralose, Acesulfame Potassium.
* These statements have not been evaluated by the Food and Drug Administration. This product is not intended to diagnose, treat, cure, or prevent any disease.