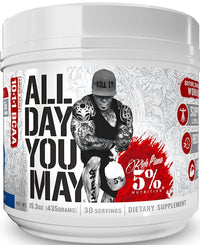 5% Nutrition All Day You May 30 servings
5% Nutrition All Day You May 30 servings
If you're serious about gains, you need to begin, live, and end your day in an anabolic state. And to do that, you need to begin with ALL DAY YOU MAY. It is your best choice to have maximum muscle recovery and growth and can be enjoyed throughout the day, between meals, and following a workout.
Unlike lesser quality BCAAs available, ALL DAY YOU MAY or simply ADYM, features a number of powerful ingredients to maximize performance including HICA which improves Leucine utilization. What's the point of a clinical dose if you can't get the benefit from it!? 
Supplement Facts
Serving Size 15.5 g
Servings Per Container 30
Amount Per Serving % DV
Vitamin C (as Ascorbic Acid) 200 mg 222%
Vitamin B6 (as Pyridoxine Hydrochloride) 2 mg 118%
Vitamin B12 (as Cyanocobalamin) 125 mcg 5208%
Calcium (as Dicalcium Phosphate) 65mg 5%
Phosphorus (as Dicalcium Phosphate) 50mg 4%
Branched Chain Amin Acid Blend: 6000mg **
L-Leucine, L-Isoleucine and L-Valine
Conditionally Essential Amino Acid Blend 2750 mg **
L-Glutamine, L-Carnitine L-Tartrate
Amino Acid Support Blend: 960mg **
L-Taurine, Raw Coconut (Cocos nucifera) (fruit) Water Concentrate, Alpha-Hydroxyisocaproic Acid (Leucic Acid), Bromelain, Blueberry (vaccinium angustifolium) (fruit) Powder
Intra-Cellular Buffer Blend 800mg **
Beta-Alanine, Dicalcium Phosphate, Sodium Bicarbonate
Joint & Liver Support Blend 650mg **
D-Glucosamine Sulfate Potassium, Methylsulfonylmethane (MSM) Milk Thistle (Silybum marianum) (seed) 650 mg **
Essential Amino Acid Blend: 205mg **
L-Phenylalanine, L-Threonine, L-Lysine HCI, L-Histidine HCI, L-Tryptophan, L-Methionine

** Daily Value (DV) not established.
Other Ingredients: Natural Flavors, Citric Acid, Glucose Polymers, Acesulfame Potassium, Sucralose, Silicon Dioxide, Red #40
It May contain traces of shellfish