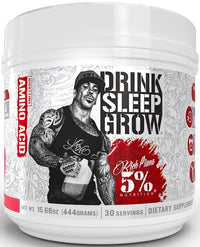 5% Nutrition Drink Sleep Grow 30 Servings
Rich Piana's 5% Nutrition Drink Sleep Grow is a dietary supplement designed to support nighttime recovery and muscle growth. It contains a combination of essential amino acids (EAAs), conditionally essential amino acids (CEAAs), and branched-chain amino acids (BCAAs), which are the building blocks of protein and play a crucial role in muscle repair and growth.
It's important to note that while supplements like Drink Sleep Grow can complement a balanced diet and exercise routine, they should not be considered a substitute for proper nutrition or a healthy lifestyle. Always consult with a healthcare professional before adding new supplements to your diet, especially if you have any underlying health conditions or concerns. Additionally, be sure to follow the recommended dosage and usage instructions provided by the manufacturer.
Supplement Facts
Serving size: 1 scoop (15g)
Servings per Container: 30
Amount per Serving % Daily Value
BCAA Blend: L-Leucine (Active TR), L-Isoleucine, L-Valine 6g +
Growth Hormone Recovery Blend: L-Glutamine, Gamma Aminobutyric Acid (GABA), Mucuna Pruriens Extract (L-DOPA)(seeds) 3.6g +
Conditionally Essential Amino Acid Blend: L-Carnitine L-Tartrate, N-Acetyl L-Cysteine 1.001g +
Joint Support Blend: D-Glucosamine Sulfate Potassium, Methylsufonylmethane (MSM) 600mg +
Essential Amino Acid Blend: L-Phenylalanine, L-Histidine, L-Threonine, L-Methionine 155mg +
+ Daily Value not established
Other ingredients: Citric Acid, Natural Flavors, Sucralose, Silicon Dioxide, Yellow #5, Blue #1