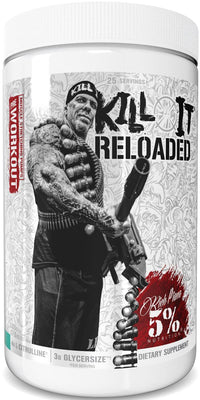 5% Nutrition Kill It Reloaded 30 Servings
5% Nutrition Kill It Reloaded is a pre-workout supplement designed to enhance your workout performance. It is marketed as a product that excels in the stimulant-based category of pre-workouts, suggesting it provides energy and focus to support intense workouts.
Pre-workout supplements like this typically contain a blend of ingredients such as caffeine, amino acids, and other compounds that are intended to increase energy, improve endurance, and help you achieve better workout results. These products are popular among athletes and fitness enthusiasts looking for that extra boost before their training sessions.
It's important to note that the effectiveness and safety of pre-workout supplements can vary based on individual tolerance, health conditions, and other factors. If you're considering using "5% Nutrition Kill It Reloaded" or any pre-workout supplement, it's advisable to consult with a healthcare professional or fitness expert to ensure it's suitable for your specific needs and health status. Additionally, be sure to follow the recommended dosage and usage guidelines provided on the product's label.
Supplement Facts
Serving Size: 1 Scoop
Servings Per Container: 25
Niacin (as Vitamin B3)((as niacinamide) 30 mg 188%
Sodium (as Sodium Citrate) 20 mg 1%
Potassium (as Potassium Citrate & Inositol-Stabilized Arginine Silicate) 70mg 1%
N.O Blend:
L-Citrulline 4000mg *
GlycerSize (standardized to 65% Glycerol) 3000mg *
Beta-Alanine 2000mg *
L-Taurine 2,000mg *
Betaine 1,000mg *
Nitrosigine (Inositol-Stabilized Arginine Silicate) 750mg *
Nootropic Blend:
Choline Bitartrate 500mg
L-Theanine 100 mg
Huperzia serrata (herb) Extract (std.1% Huperzine A) 100mcg *
Creatine Blend:
Creatine Anhydrous 2,300mg *
Creatine Monohydrate 100mg *
Creatine Pyruvate 100mg *
Stim Blend:
Caffeine Anhydrous 267 mg *
Caffeine Citrate 50 mg
Infinergy DiCaffeine Malate (74% Caffeine) 50mg *
Raw Coconut (Cocos nucifera) (fruit) Water Concentrate 100mg *
*Percent Daily Values are based on a 2,000 calorie diet.
Other Ingredients: Malic Acid, Silicon Dioxide, Natural Flavors, Citric Acid, Sucralose, Blue #1