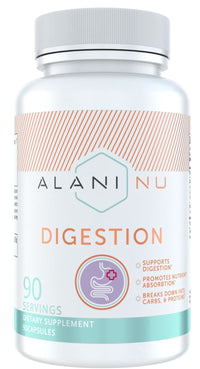 Alani Nu Digestion
Strategically designed to support digestion, nutrient absorption, and to break down fats, carbs, and proteins.
Supplements Facts
Serving Size 1 Veggie Capsule(s)
Servings Per Container 90
Amount Per Serving % DV
Organic Inulin 400 mg **
DigeZyme™ Multi-Enzyme Complex 50 mg **
a-Amylase 2400DU/g **
Neutral Protease 6000 PC/g **
Cellulase 1100 CU/g **
Lactase 4000 ALU/g **
Lipase 200 FIP/g **
Bromelain (2,400 G.D.U./g) from Pineapple (Ananas comosus)(Stem) Extract 50 mg **
** Daily Value (DV) not established.
Other Ingredients
Hypromellose (Veggie Capsule), Silica, Ascorbyl Palmitate (Vitamin C)
Processed in a facility and/or manufacturing line that also processes products containing milk, eggs, soybeans, wheat, shellfish, fish oil, tree nuts and peanut flavor.