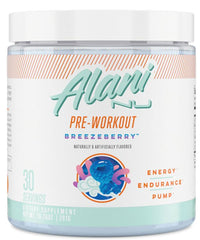 Alani Nu Pre-Workout
Our pre-workout formula provides the perfect amount of endurance to power through those moments that matter most. We provide 30 servings of flavor-packed ingredients to ensure that you don't miss a beat and get the most out of every single workout.
Supplement Facts
Serving Size 1 Servings (9.6g)
Servings Per Container 30
Amount Per Serving % DV
L-Citrulline Malate 2:1 6 g **
Beta-Alanine 1.6 g **
L-Tyrosine 500 mg **
Caffeine (from Coffee (Coffea arabica Bean Extract) 200 mg **
L-Theanine (from green tea (Camellia sinensis Leaf extract)(Theakalm®) 200 mg **
** Daily Value (DV) not established.
Other Ingredients
Trisodium Citrate, Natural and Artifical Flavor, Silica, Beet Root Powder , Sucralose, Acesulfame Potassium
Processed in a facility and/or manufacturing line that also processes products containing milk, eggs, soybeans, wheat, shellfish, fish oil, tree nuts and peanut flavor.