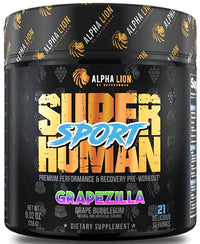 Alpha Lion SuperHuman Sports
Alpha Lion SuperHuman Sports

PERFORMANCE. ENDURANCE. RECOVERY.
Fuel the most intense training sessions in the gym, on the field or on the course!

A performance pre-workout designed for anyone looking to enhance their athletic performance. Featuring research-backed ingredients, chosen with the performance athlete in mind, Superhuman Sport will fuel the most intense training sessions in the gym, on the field, or on the court.

8 Premium, Trademarked Ingredients
100% transparent label
Banned Substance Free
Clean Label - Free of Artificial Colors
Safe, side-effect Free

Supplement Facts
Serving Size 1/2 Scoop 42 servings  1 Scoop 21 serving
Servings Per 1/2 Scoop Container 42
Amount Per Serving % Daily Value*
Superhuman Elite ATP & Performance Matrix
Betaine Anhydrous 1250mg *
BioEnergy D-Ribose 1250mg *
L-Ornithine 1000mg *
elevATP (Ancient Peat & Apple Extract)75mg *
Caffeine Anhydrous 37.5mg *
CaffXtend Natural Time Release Caffeine 12.5mg *
SuperHuman Peak Endurance Matrix
Peak02 500mg *
([Cordyceps Militaris (Cordyceps) (Root), Ganoderma Lucidim (Reishi) (Root), Pleurotus eryngii (King Trumpet)(Root)Lentinula Edodes (Shiitake)(Root), Hericium Erinaceus (Lions Mane) (Root), And Trametes Versicolor (Turkey Tail) (Root)
Aquamin 250mg *
(Sea Minerals (Lithothamnium corallioides))
RhodioPrime 150mg *
([Rhodiota crenulate (root) Extract (6% salidroside))
SuperHuman Recovery Nutrient Uptake Matrix
VitaCherry Sport 200mg *
((Whole Montmorency Tart Cherry))
AstraGin 25mg *
(Astragalus membranaceous and Panax notoginseng (root) Extract)


Other Ingredients: Malic Acid, Natural & Artificial Flavors, Citric Acid, Silicon Dioxide, Sucralose, Acesulfame Potassium.