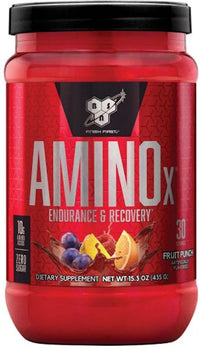 BSN AminoX 70 servings CLEARANCE
BSN AminoX is a dietary supplement designed to support performance and recovery in athletes and fitness enthusiasts. It is formulated to provide a blend of amino acids, including Branched-Chain Amino Acids (BCAAs) and other essential amino acids, along with other ingredients like L-Alanine, Taurine, and L-Citrulline.
Here's a breakdown of the key components and their potential benefits:

BCAAs (Branched-Chain Amino Acids):

BCAAs consist of three essential amino acids: Leucine, Isoleucine, and Valine.
They are known for their role in promoting muscle protein synthesis and reducing muscle protein breakdown, which can aid in muscle recovery and growth.
BCAAs may also help reduce exercise-induced muscle soreness and fatigue.
L-Alanine:

L-Alanine is a non-essential amino acid that plays a role in glucose metabolism.
It can be converted into glucose to provide energy during intense workouts or periods of increased energy demand.
Taurine:

Taurine is a conditionally essential amino acid found in various tissues, including muscles and the central nervous system.
It is known for its potential role in supporting exercise performance and reducing muscle cramps and fatigue.
L-Citrulline:

L-Citrulline is an amino acid that can enhance nitric oxide production in the body.
Increased nitric oxide levels may lead to improved blood flow and vasodilation, potentially enhancing endurance and muscle pumps during exercise.
Amino acid supplements like BSN AminoX are often used by individuals engaged in strenuous physical activity, such as weightlifting and endurance sports, to help reduce muscle fatigue, support recovery, and enhance exercise performance. The effervescent nature of the product means it dissolves quickly in water for convenient consumption.

Packaging May Vary
Supplement Facts
Serving Size: 1 Level Scoop (14.5g)
Number of Servings: 70 Servings
Amount Per Serving % Daily Value
Total Carbohydrate 1 Gm 1%
Vitamin D - (As Cholecalciferol) 500 IU 125%
Sodium 160 Mg 7%
AMINO ACID INTERFUSION - (MICRONIZED BCAA BLEND (L-LEUCINE, L-VALINE, L-ISOLEUCINE), L-ALANINE, MICRONIZED TAURINE, MICRONIZED L-CITRULLINE) 10 Gm **%
EFFORSORB ENDURA COMPOSITE - (CITRIC ACID, MALIC ACID, SODIUM BICARBONATE AND CHOLECALCIFEROL) 2 Gm **%