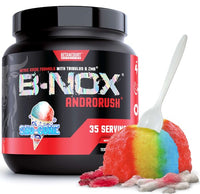 Betancourt Nutrition B-NOX Androrush 35 servings
Betancourt Nutrition B-NOX Androrush 35 servings
PRE-WORKOUT & TESTOSTERONE
Betancourt Nutrition B-NOX Androrush is an innovative pre-workout supplement that does far more than simply provide energy to get you through your workout. This product contains scientifically proven ingredients like Creatine, Beta-Alanine, CoQ10, L-Arginine Alpha-Ketoglutarate, and BCAA's.
Supplement Facts
Serving Size 1 Scoop
Servings Per Container 35
Amount Per Serving % Daily Value*
Calories 45-
Sodium 10 mg   0%
Total Carbohydrate 11 g   4%
Magnesium (as Oxide & Aspartate) 165 mg   39%
Vitamin B6 (as Pyridoxine HCl) 1 mg   59%
Strength-Endurance Blend 16.6 g-
Endocrine Ignition Blend 16.6 g-
Pre-Launch 16.6 g-
Potassium (as citrate and glycerophosphate) 20 mg   0%
Zinc (as oxide, mono-L-methionine sulfate, and magnesium aspartate (ZMA) 25 mg   227%
Energy & Endurance Blend 16.6 g-
Anabolic Solidification Blend 16.6 g-
Strength-Endurance Blend
(glucose polymers (maltodextrin), L-Taurine, Beta-alanine (as CaroSyn), dicreatine malate, glucuronolactone.)

Endocrine Ignition Blend
(maca extract 4:1 (lipidium meyenii), (root), Tribulus terrestris extract (std. to 40% saponins) (seed), stinging nettle extract (urtica dioica) (std to 8% sitisterol) (root), conezyme Q10.)

Pre-Launch
(BioPerine (black pepper extract) (std. to 95% piperine) (piper nigrum) (fruit))

Energy & Endurance Blend
(Caffeine Anhydrous, Theobromine, Beet Root Powder)

Anabolic Solidification Blend
(Creatine Monohydrate, Guarana Seed Extract (std. to 22% Caffeine), L-Glutamine, Branched Chain Amino Acids, (L-Leucine, L-Isoleucine, L-Valine), L-Tyrosine, N-Acetyl-L-Tyrosine, L-Histidine HCL, Creatine AKG (Alpha-Ketoglutarate), Creatine Ethyl Ester HCI)

Ingredients: Citric Acid, Natural, and Artificial Flavors, Malic Acid, Sucralose, Tartaric Acid, FD&C Blue #2 Lake, Silicon Dioxide.