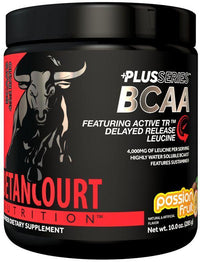 Betancourt Nutrition BCAA Plus 30 servings
Betancourt Nutrition BCAA Plus
Instantized BCAA's 4:1:1 Ratio
Featuring Active Time Release Leucine
This is for anyone that is tired of a shaker cup full of foam every time they mix their BCAA's. However, the importance of water-soluble amino acids extends beyond that. 
Contained within that bothersome foam is the majority of your Leucine, the most important of the BCAA's.
Supplement Facts
Serving Size: 1 Scoop (9.5 Gm)
Number of Servings: 30 Servings
Amount Per Serving % Daily Value
Calories 5 N/A*
Total Carbohydrate 1 Gm N/A*
Vitamin B6 - (Pyridoxine Hcl) 2 Mg 118%
Vitamin B12 - (As Methylcobalamin) 30 Mcg 1250%
Zinc - (As Zinc Citrate) 22 Mg 200%
Sodium - (As Sodium Chloride) 20 Mg 1%
Potassium - (As Potassium Citrate) 35 Mg 1%
LEUCINE +PLUS BLEND - (INSTANTIZED L-LEUCINE, ACTIVE TR L-LEUCINE) 4,000 Mg N/A*
INSTANTIZED L-ISOLEUCINE 1,000 Mg N/A*
INSTANTIZED L-VALINE 1,000 Mg N/A*
HYDRATION +PLUS BLEND - (TAURINE, SUSTAMINE L-ANALYL L-GLUTAMINE) 1,500 Mg N/A* 
Other Ingredients:
Natural and Artificial Flavors, Citric Acid, Malic Acid, Sucralose, Silicon Dioxide, Acesulfame Potassium, Sunflower Lecithin, Maltodextrin.