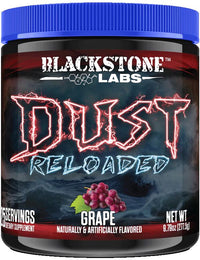 Blackstone Labs Dust Reloaded
Blackstone Labs Dust Reloaded is a hardcore pre-workout that greatly enhances gym performance by increasing energy levels, focus, and gives you that edge to push through even the toughest RPEs.

Dust Reloaded
New Formulation: We've Taken the v2 formula and really kicked it up a notch. More energy and focus with the same levels of caffeine.
Full Transparency: Dust Reloaded has no proprietary blend. Its glory was laid bare for all to see.

Supplement Facts
Serving Size: 1 Scoop (11.1gm)
Servings Per Container: 25
Potassium (from Nitrosigine) 80mg 2%
Beta-Alanine 2g **
Nitrosigine (Inositol-Stabilized Arginine Silicate) 2g **
L-Citrulline Silicate 1g *
L-Taurine 1g *
Betaine Anhydrous 500mg **
Caffeine Anhydrous 390mg **
Beta-Phenylethylamine HCI 200mg **
N-Acetyl-L-Tyrosine 150mg **
L-Norvaline 50mg **
Yohimbine HCI 2.5mg **
DiCaffeine Malate 10mg *
Stearoyl Vanillylamide 5mg *

Other Ingredients: Citric acid, Natural & Artificial Flavors, Silicon Dioxide, Calcium Silicate, Maltodextrin, Sucralose, Acesulfame Potassium, Salt

*Percent Daily Values are based on a 2,000 calorie diet.

*Daily Values Not Established