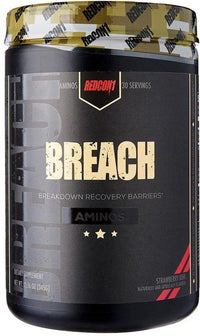 RedCon1 Breach 30 servings
RedCon1 Breach 30 servings
BCAA Formula Includes A Vitamin And Electrolyte Mix.
Breach takes the lead on muscle growth and repair. Alongside the BCAA's found in Breach, we included a vitamin and electrolyte mix so you stay hydrated and utilize Breach as an all-day muscle building and hydrating sports drink.
2:1:1 Clinical Tested Ratio
5 Grams of Branch Chained Amino Acids
Added Coconut Water Powder
For Men and Women
Mixes Up Easily
Supplement Facts
Serving Size: 1 Scoop
Servings Per Container: 30
Amount Per Serving
Potassium: 340mg 7%
Sodium: 160mg 7%
Leucine: 2.5g
Isoleucine: 1.25g
Valine: 1.25g
Coconut Water Powder: 1g
Glycerol: 1g
Taurine: 1g
Other Ingredients: 
Citric acid, natural and artificial flavors, malic acid, sucralose, acesulfame-k, maltodextrin, silica.