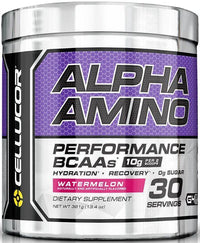 Cellucor Alpha Amino 30 servings
Cellucor Alpha Amino 30 servings
Cellucor tailored this new version of Alpha Amino to include a well-studied 2:1:1 BCAA ratio for optimal performance in addition to 11 essential amino acids. An integral part of the Alpha Amino formula is electrolytes, which help keep your body hydrated and ready to tackle any challenge.
Supplement Facts
30 Servings Fruit Punch
Serving Size: 1 scoop (12.7g)
Servings Per Container:30
Amount Per Serving % DV
Phosphorous (As Dipotassium Phosphate, Disodium Phosphate, Dimagnesium Phosphate) 65 mg 7%
Magnesium (as Dimagnesium Phosphate) 13 mg 3%
Sodium (as Disodium Phosphate) 30 mg 1%
Potassium (as Dipotassium Phosphate) 70 mg 2%
Instantized BCAA 2:1:1 Blend 5,000mg †
Instantized L-Leucine, Instantized L-Isoleucine, Instantized L-Valine
Essential Performance Amino Acid Complex 3,750mg †
Micronized L-Glutamine, Micronized Taurine, Micronized L-Alanine, Micronized L-Citrulline, Micronized L-Arginine, Micronized L-Lysine HCl, Micronized L-Phenylalanine, Micronized L-Threonine, Micronized L-Methionine, Micronized L-Tyrosine, Micronized Histidine
Alpha Amino Hydration Blend 1,750mg †
BetaPower Betaine Anhydrous (1250mg), Coconut (Cocos nucifera) Water Powder, Dipotassium Phosphate, Disodium Phosphate, Dimagnesium Phosphate
† Daily Value not established.
Other Ingredients:
Natural & Artificial Flavors, Citric Acid, Malic Acid, Sucralose, Acesulfame Potassium, Sunflower Lecithin, FD&C Blue #1.
Allergen Warning: Contains Tree Nuts (Coconut).