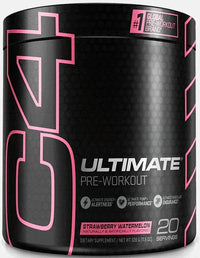 Cellucor C4 Ultimate 20 serving
Cellucor C4 Ultimate, a pre-workout supplement.
Here's a breakdown of the key points:

C4 Family: The C4 family of products has been in the market for over a decade and is known for leading the pre-workout category.

C4 Ultimate: This specific product, C4 Ultimate, is described as the strongest pre-workout in the C4 lineup.

Formulation: C4 Ultimate is formulated and claims to provide lasting energy, pumps, and muscular endurance. It suggests a focus on enhancing workout performance.

High Stimulant:  C4 Ultimate is labeled as a high stimulant pre-workout. This indicates that it contains ingredients that boost energy levels, potentially through caffeine or other stimulants.

Dual-Source Caffeine Technology: C4 Ultimate  dual-source caffeine technology suggests that the caffeine in C4 Ultimate comes from two different sources. This could be a strategic approach to provide sustained energy without a sudden crash.
Supplement Facts
Serving Size: 1 Scoop (16.3g)
Servings Per Container: 20
Amount Per Serving % DV
Calories 5
Total Carbohydrate 1g <1%**
Calcium (as Calcium Silicate) 80mg 6%
C4 Super Citrulline Pump Matrix 6g *
Citrulline 4g *
Citrulline Nitrate (NO3-C) 1g *
Citrulline Malate 1g *
CarnoSyn Beta-Alanine 3.2g *
CON-CRET Creatine HCI 1g *
Creatine Nitrate (NO3-T) 1g *
Taurine 1g *
Caffeine Anhydrous 300mg *
AlphaSize 50% Alpha-Glyceryl Phosphoryl Choline 200mg
Theacrine (as TeaCrine) 62.5mg *
Toothed Clubmoss (Huperzia serrata)(whole plant (std.Huperzine A) 5mg *
Rauwolfia vomitoria root bark extract 1mg *

** Percent Daily Value (%DV) are based on a 2000 calorie diet.
† Daily Value not established.
Other Ingredients: Natural & Artificial Flavors, Calcium Silicate, Silicon Dioxide, Acesulfame Potassium, Sucralose, Citric Acid, Malic Acid, FD&C Blue #1