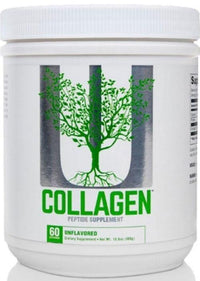 Universal Nutrition Collagen 60 servings
Universal Nutrition Collagen 60 servings
Universal Collagen provides an excellent source of highly bioavailable hydrolyzed collagen in an instant and easy-to-mix powder. Universal Collagen is extremely versatile in its benefits, from helping support bone and joint health, healthy connective tissues, skin, hair, and nail growth, in addition to aiding digestion and muscle recovery. Universal Collagen is easily digested and quickly absorbed by the body for maximum benefits.
Supplement Facts
Serving Size: 1 Teaspoon (5g)
Servings Per Container: 60
Amount Per Serving Amt %DV
Calories 20
Protein 5g 10%
Collagen (Type I & III) 5g†

* % Daily Value is based on a 2,000 calorie diet. Your daily values may be higher or lower based on your calorie needs.

† Daily Value (DV) not established.

Other Ingredients: None
Allergen Warning
Contains Sulfites. Made in a GMP facility that processes milk, soy, egg, peanuts, tree nuts, fish, shellfish, and wheat.