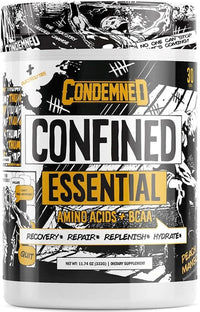 Condemned Labz Confined Essential BCAA
Condemned Labz Confined Essential BCAA 30 servings
CONFINED provides a full-spectrum of essential amino acids (including 5 grams of 3:1:1 BCAA) to support protein synthesis, reduce breakdown, and maintain an anabolic environment. To help facilitate nutrient absorption and replenish minerals lost during intense training, CONFINED also delivers a diverse array of essential electrolytes, including sodium, potassium, and magnesium. These minerals enhance hydration and support optimal muscle function. 
Full essential amino acid profile
Stimulates muscle protein synthesis
Preserves lean muscle mass

Aids hydration 
Supplement Facts
Serving Size: 1 Scoop (11 grams)
Servings per Container: About 30
Amount per Serving %DV
Calcium (from Calcium Citrate) 60mg 5%
Magnesium (from Magnesium Citrate) 30mg 7%
Sodium (from Sodium Chloride) 120mg 5%
Potassium (from Potassium Chloride) 100mg 2%
Instantized L-Leucine 3000mg **
Instantized L-Isoleucine 1000mg **
Instantized L-Valine 1000mg **
L-Lysine 825mg **
L-Threonine 500mg **
L-Phenylalanine 500mg **
L-Methionine 350mg **
L-Histidine 250mg **
L-Tryptophan 100mg **
Percent Daily Values (%DV) are based on a 2000 calorie diet.
**Daily Value not established.
Other Ingredients: Citric Acid, Malic Acid, Natural and Artificial Flavors, Sucralose, Silica (anti caking)