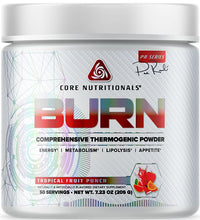 Core Nutritionals Burn 
Extreme Thermogenic Powder
Zum XR - Delayed-release caffeine for sustained energy
KSM-66 - Reduction in cortisol levels
SaffSerrene - Supports mental health and mood balance, suppresses appetite

Core BURN is a comprehensive weight management supplement and appetite suppressants
BURN is the next innovation in thermogenic. A modern weight loss solution using trademarked and patented ingredients, BURN addresses every major metabolic pathway of adipose creation and deposition. Whereas many thermogenic focus exclusively on stimulation, BURN contains ingredients with specific, high-quality evidence demonstrating their efficacy. SaffSerene, for example, has been demonstrated to significantly reduce subjective feelings of hunger – one of the only dietary ingredients on the market that the FDA allows to make such a claim. KSM-66, a patented extract of Ashwagandha, has been shown to significantly reduce cortisol – the body's key stress hormone – in clinical trials. Together with the other premium ingredients in BURN, these two ingredients create an unparalleled weight management product.

A complete formula, BURN is simply the modern evolution in weight loss supplements. With every facet of weight loss covered, BURN is the perfect companion to your diet and exercise regimen.