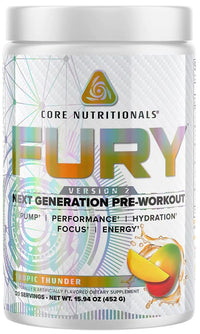 Core Nutritionals Fury Version2 Pre-Workout
Core FURY Version 2 is a meticulously crafted combination of key ingredients created to boost athletic performance, hydration, mental clarity, and energy. For athletic performance, muscle pumps, and athletic performance, ingredients such as L-Citrulline, VasoDrive-AP, Citrapeak, and Senactiv™, among others, are included at or above serving sizes suggested by clinical research. These ingredients have repeatedly demonstrated improvements in blood flow, hydration, power output, VO2 max, and time to exhaustion. For cognitive capacity, clarity, and focus; L-Tyrosine, Alpha GPC 50%, Cocoabuterol, and Pregnenolone are also included at, or above, serving sizes suggested by research. Studies using these ingredients have shown to increase working memory, enhance focus, and reduce cognitive fatigue.
Supplement Facts
Serving Size: 1 Scoop (22.4)
Servings Per Container: 40
Potassium (as Albion Potassium glycinate Complex) 36 mg 1%
Sodium (as Sea Salt) 50mg *
Fury Pump Blend
L-Citrulline 3000mg *
VasoDrive-AP (hydrolyzed casein) 127mg *
Citrapeak (glucosyl hesperidin) 100mg *
Fury Performance Blend
Beta Alanine 1600mg *
Betaine Anhydrous 1250mg *
Senactiv (Panax notoginseng (root) and Rosa roxburghii (fruit) Extract) 25mg *
Fury Hydration Blend
Taurine 1000mg *
Albion Potassium Glycinate Complex 1000mg *
Sea Salt 130mg *
Fury Focus Bend
L-Tyrosine 1000mg *
Alpha GPC 50% 150mg *
Cocoabuterol Cocoa Extract (Theobroma cacao L)(seed) (std.to 50% cocoa alkaloids) 50mg
Pregnenolone 5mg *
Fury Energy Blend
Caffeine Anhydrous 125mg *
Caffeine Citrate (yields 50% Caffeine) 75mg *
ZUm-XR XR Caffeine 50mg *

Other Ingredients: Malic Acid, Silicon Dioxide, Natural and Artificial Flavor, Citric Acid, Sucralose, Acesulfame Potassium.