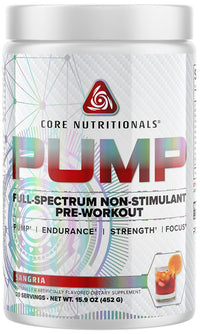 Core Nutritionals Pump 28 servings
Full Spectrum Non-Stimulant Pre-Workout. Pump. Endurance. Strength. Focus. It should be simple: the right combination of specifically targeted ingredients for the pump, endurance, strength, and focus all blended together to produce a scientifically sound, and complete, non-stimulant pre-workout. It should be, but it isn't. It is a good thing for consumers, then, that Core Nutritionals loves a challenge. With Core PUMP, we redefine the non-stimulant, pre-workout category with more than just a "pump" product. Core PUMP contains cutting-edge and trademarked ingredients to maximize ALL performance aspects of your workout, without stimulants or jitters.
Supplement Facts
Serving Size 2 Scoops
Servings Per Container 20

Amount Per Serving % Daily Value*
Beta-Alanine 3200 mg-
L-Citrulline 6000 mg-
Alpha GPC 50% 600 mg-
HydroMax (65% Glycerol Powder) 2000 mg-
Betaine Nitrate (N03-T) 2500 mg-
Peak02 2000 mg-
Peak02
([Cordyceps Militaris (Cordyceps) (Root), Ganoderma Lucidim (Reishi) (Root), Pleurotus eryngii (King Trumpet)(Root)Lentinula Edodes (Shiitake)(Root), Hericium Erinaceus (Lions Mane) (Root), And Trametes Versicolor (Turkey Tail) (Root))

Other Ingredients: Citric Acid, Silicon Dioxide, Natural & Artificial Flavor, Malic Acid, Sucralose, Acesulfame Potassium.