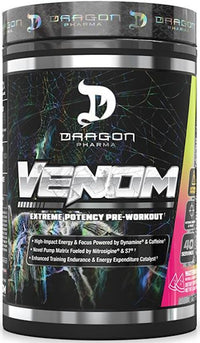 Dragon Pharma Venom 40 servings
Dragon Pharma Venom 40 servings
Venom also addresses two critical components: Training endurance and blood flow. Not only are you getting a clinical dosage of beta-alanine for helping to maximize your training endurance, but we also include the research-proven ingredients Nitrosigine and S7. 

Last but not least, Venom also focuses on maximizing the effectiveness of your training sessions by the inclusion of two potent ingredients that amplify calorie burning and energy expenditure: CaloriBurn GP and Yohimbe.
Supplement Facts 
Serving Size: Small Scoop (7.5g)/Large Scoop (15g)
Servings Per Container: 40/20
L-Citrulline Malate 2:1 3000mg
Beta Alanine 1800mg
Taurine 500mg
L-Tyrosine 250mg
Caffeine Anhydrous 187.5mg
Eria Jarensis 125mg
Extended Release Caffeine 50mg
Choline Bitartrate 25mg
Theobromine 25mg
Yohimbine Bark Extract (8% Yohimbine) 17.5mg
Black Pepper Extract 2.5mg
Other Ingredients: None.