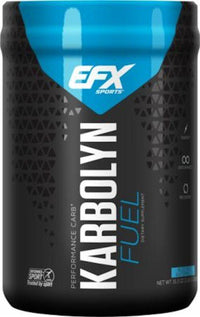 EFX Sports Karbolyn Fuel 2.2lbs
EFX Sports Karbolyn Fuel 2.2lbs
Karbolyn represents the dawn of a new era of carbohydrate supplementation. Unlike other carbohydrate sources, Karbolyn is quickly absorbed into the bloodstream like a simple sugar but without the typical spike or crash caused when your muscles run out of fuel. 
Only One Carbohydrate Source On Earth Can Make All 10 Of These Incredible Claims: All American EFX's Karbolyn!
Perfect Fuel Source: Use before, during, and after training
Supplement Facts 
2.2 Lbs. 
Serving Size 50g (One Scoop)
Servings Per Container 20
Amount Per Serving % Daily Value
Calories 200 
Calories From Fat 0 
Total Fat 0 g 0%
Saturated Fat 0 g 0%
Cholesterol 0 g 0%
Sodium 0 g 0%
Total Carbohydrates 50 g 16.7%**
Dietary Fiber 0 g 0%
Sugars 0 g †
Protein 0 g 0%
Karbolyn 50 g †
(homopolysaccharide derived from potato, rice, and corn)
Other Ingredients: Citric Acid, Natural & Artificial Flavors, FD&C Red #40, Sucralose.