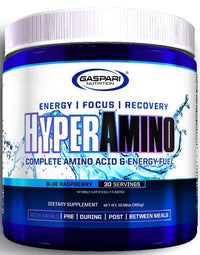 Gaspari Nutrition HyperAmino
Gaspari Nutrition HyperAmino 30 serving
Gaspari Nutrition has taken these powerful amino acids and inserted their cutting edge technology for a fast and long-lasting boost. This can be taken by men and women.
BCAAs are provided here in the recommended 2:1:1 ratio. With glutamine and taurine. And nitric oxide levels are increased with citrulline and arginine. 
Supplement Facts
Serving Size: 1 Scoop (10g)
Servings Per Container: 30
Hyper Amino Amino Blend 5g
BCAA 2:1:1 Maxtrix:
Micronized L-Leucine, Micronized L-Isoleucine, Micronized L-Valine
Amino Recovery Matrix:
Ajinomoto L-Glutamine, Micronized L-Taurine
Blood Flow & Performance Enhancement Matrix:
Micronized L-Citrulline, Micronized L-Arginine
Essential Amino Matrix
L-Tyrosine, Micronized L-Histidine, Micronized L-Lysine, Micronized L-Phenylalanine, Micronized L-Threonine, Micronized L-Methionine
Hyper Amino Hyper-Energy Matrix: 200mg
llex guayusa Extract (leaf), Green Tea Extract (Camellia sinensis)(leaf), Guarana Extract (seed)
* % Daily Value is based on a 2,000 calorie diet. Your daily values may be higher or lower based on your calorie needs.
† Daily Value (DV) not established.
Ingredients
Natural and Artificial Flavor, Citric Acid, Silicon Dioxide, Malic Acid, Sucralose, Acesulfame-Potassium, FD&C Red #40. Total caffeine from all sources is equal to 100mg per serving.