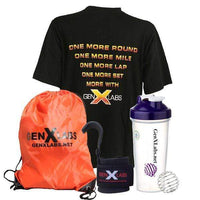 GenXLabs Gym Deal CLEARANCE
GenXLabs Gym Deal
This Gym Deal Contains
Black T-Shirt
Drawstring Gym Bag
Lifting Hooks
Shaker Bottle 
GenXLabs T-Shirt 
One More Set,One More with GenXLabs Black T-Shirt
Super Heavyweight 65% Cotton and 35% Polyerter
Drawstring Gym Bag
This drawstring back sack will come in handy for carrying all you gym clothes! It features double strung rope on each side for easy portability and a screen print GenXLabs Logo on the front.Water resistant nylon shell, and double drawstring closure.
Lifting Hooks
Heavy Duty Lifting Power Hooks, Neoprene Rubber Coated Power Hook. 
A slip-resistant coating, outside strap and durable buckle.
Shaker Bottle 
BlenderBottle shaker cups are the only bottles with the patented BlenderBall wire whisk.