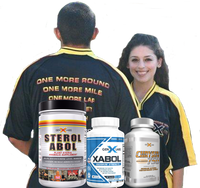 GenXLabs Cycle and Muscle Builder Stack FREE GenXLabs Training Set
GenXLabs Cycle and Muscle Builder Stack is designed for both men and women
FREE GenXLabs Training Set
GenXLabs SterolABOL 90 tabs
A Natural Plant Sterol-Based Supplement. SterolABOL is loaded with aminos, energy boosters, essential fatty acids (EFAs), electrolytes, and crucial vitamins/minerals to give you a complete and world-class formula.

Experience SterolABOL benefits all year round and can be stack with any supplements. 
SterolABOL Supplement Facts: 
Serving Size: 6 Tablets 
Servings per Container: 15 
Amount Per Serving % DV
Test Complex 2,500 mg **
Muira Puama, Stinging Nettle Root, Asian Ginseng, Kola Nut, Winged Treebine (Cissus Quadrangularis), White Button Mushroom, Gymnema Sylvestre,  Guarana. 
Plant Sterols Complex 1992 mg ** 
Phytosterol Complex, Tribulus Terrestris, Kudzu Root, Methoxyisoflavone, Chrysin, Beta Ecdysterone.  
Antioxidants & Detoxifiers Complex 2,000 mg** 
Alfalfa Herb, Milk Thistle Root, Spirulina, Dandelion Root, Garlic Root Powder, Ginger Root, Licorice Root, Wheat Grass, Saw Palmetto Root,  Celery Seed, Cayenne Pepper, Chlorella Cracked Cell Wall.  
EFAs Blend 500 mg** 
Flaxseed Powder, Lecithin 
Performance Boosters 500 mg** 
Green Tea Leaf, Ginkgo Biloba Leaf, Citrus Bioflavonoids, Grapeseed Extract, Lycopene.
*Daily Value (DV) not established.
Other Ingredients:
Dicalcium Phosphate, Stearic Acid, Microcrystalline Cellulose,  Magnesium Stearate, Silicon Dioxide, Pharmaceutical Glaze (Shellac, Povidone).  Contain Soy
GenXLabs XABOL PCT & Test Booster 60ct
If you're serious about keeping your gains, you need a PCT (Post Cycle Therapy) that truly stands above the competition. Now from GenXLabs comes the ultimate PCT and Test-Booster, packed with all of the ingredients you need to increase performance safely. 
Experience XABOL benefits all year round and can be stacked with any supplements.
XABOL Supplement Facts
Servings Size 2 Capsules
XABOL Supplement Facts
Servings Size 2 Capsules
Servings Per Container: 30
Amount Per Serving % DV
Testosterone Enhancers 600mg **
Tongkat Ali Extract (longjack) 300mg *
Tribulus Terrestris Extract (std.min 45%) 300mg **
White Button Mushroom Extract 300mg **
Milk Thistle Extract (4:1)(seed) 225mg **
Chrysin (5,7-Dihydroxyflavone) 100mg **
Fadogia Agestis 75mg **
Nettle Root Extract (std. min 95% 3,4 divanillytetrahyuran) 75mg **
GenXLabs Chrysin 750
Chrysin 750 - Popular among some bodybuilders and athletes, Chrysin (5, 7 Dihydroxyflavone) is a bioflavonoid found in the plant Passiflora coerula, a member of the passionflower family. GenXLabs' Chrysin (Flavone X) delivers 750 mg per servings. Gluten-free.

Chrysin Supplement Facts
Servings Size: 2 capsules
Servings Per Container: 30
Amount Per Serving % DV
Chrysin (Dihydroxyflavone) 750mg**

**Percent Daily Value (%DV) not Established
Other Ingredients: Gelatin, Dicalcium Phosphate, Magnesium Stearate