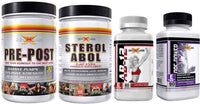 GenXLabs Endurance Stack
Pre-Power, AB-12, SterolABOL, and Free Pre-Post
The Ultimate Endurance Combination
GenXlabs Endurance Stack contains all of the elements necessary to help Stamina, Hydration, and Endurance levels. Formulated for Athletes of all types,

Endurance Cycle is used by athletes during training, competition

Pre-Post
All in One Pre and Post Training Formula
GenXLabs Pre-Post ingredients maximize both pre and post workout requisites in a way that has never been done before.

Pre-Post with a blend of Creatine Monohydrate, Beta Alanine, and L-Arginine Ketoglutarate L-Glutamine, BCAA, and great tasting.

Pre-Post Supplement Facts
Servings Size 13.1 gms (Approximately 1 scoop)
Servings Per Container: 30
Amount Per Serving % DV
PrePost Recovery Blend 6gms *
L-Glutamine, Aminoblast, Instantized L-Leucine, L-Isoleucine, L-Valine (BCAA)
PrePost Growth, Strength, Pumps & Volumizing Blend 5gms
Creatine Monohydrate, Beta-Alanine, L-Arginine Alpha-Ketoglutarate 5mg
PrePost Energy Blend (Caffeine Anhydrous, N-Methyltyramine HCI, (N-Nicotinoyl-R-Aminobutyric Acid) Higenamine
Other Ingredients: Malic Acid, Natural and Artificial Flavor, Silica, Sucralose, Acesulfame Potassium, FD&C Red #40, FD&C Blue #1.
Pre Power
Essential for any Athlete Demanding High Endurance with BCAA, Inosine, TMG, Citrulline Malate, and without Stimulants.
Pre Power Supplement Facts 
Serving Size: 3 Capsules 
Servings per Container: 30 
Amount per Servings %DV 
Magnesium (as Oxide) 14mg 4%
Inosine 750mg **
L-Leucine 300mg ** 
TMG (Trimethylglycine) 250mg ** 
Citrulline Malate 250mg **
L-Isoleucine 150mg **
L-Valine 150mg **
**Daily Value (DV) not Established 
%Daily Value (DV) is Based on a 2,000 Calorie Diet
Other ingredients: Gelatin (Capsule), Dicalcium Phosphate, Magnesium Stearate, Titanium Dioxide (color)

AB-12
GenXLabs AB-12 The Legal Growth Factor Dibencozide
Dibencozide is a form of vitamin B12 popular with athletes.
AB-12 Supplement Facts
Servings Size 1 capsule
Servings Per Container: 60 
Amount Per Serving % DV 
Vitamin B6 (as Pyridoxine HCI) 50mg 2500% 
Folic Acid 100 mcg 25%
Vitamin B12 (as Coenzyme B12)(Dibencozide) 10mg 166,66%
%Percent Daily Value (DV) Based on a 2,000 Calorie Diet 
**Daily Value (DV) not Established 
Other Ingredients: Maltodextrin, Gelatin, Magnesium Stearate, Silica
SterolABOL
A Natural Plant Sterol-Based Supplement. SterolABOL is loaded with aminos, energy boosters, essential fatty acids (EFAs), electrolytes, and crucial vitamins/minerals to give you a complete and world-class formula.
SterolABOL Supplement Facts: 
Serving Size: 6 Tablets 
Servings per Container: 15 
Amount Per Serving % DV
Test Complex 2,500 mg **
Muira Puama, Stinging Nettle Root, Asian Ginseng, Kola Nut, Winged Treebine (Cissus Quadrangularis), White Button Mushroom, Gymnema Sylvestre,  Guarana. 
Plant Sterols Complex 1992 mg ** 
Phytosterol Complex, Tribulus Terrestris, Kudzu Root, Methoxyisoflavone, Chrysin, Beta Ecdysterone.  
Antioxidants & Detoxifiers Complex 2,000 mg** 
Alfalfa Herb, Milk Thistle Root, Spirulina, Dandelion Root, Garlic Root Powder, Ginger Root, Licorice Root, Wheat Grass, Saw Palmetto Root,  Celery Seed, Cayenne Pepper, Chlorella Cracked Cell Wall.  
EFAs Blend 500 mg** 
Flaxseed Powder, Lecithin 
Performance Boosters 500 mg** 
Green Tea Leaf, Ginkgo Biloba Leaf, Citrus Bioflavonoids, Grapeseed Extract, Lycopene.
*Daily Value (DV) not established.
Other Ingredients:
Dicalcium Phosphate, Stearic Acid, Microcrystalline Cellulose,  Magnesium Stearate, Silicon Dioxide, Pharmaceutical Glaze (Shellac, Povidone).  Contain Soy
*** This is a starter kit. Additional products may be needed depending on the length of the cycle.