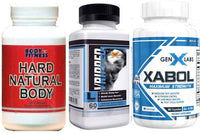 GenXLabs V-Ripped, Xabol with FREE Hard Natural Body
GenXLabs V-Ripped, Xabol with FREE Hard Natural Body 
This Stack Can Be Uses As:
V-RIPPED contains two naturally occurring Plant Cutting Factors, Extra Strength Diuretic, Vanadyl Sulfate, Energizers plus BCAA.
V-Ripped Supplements Facts 
Serving Size: 2 Capsules 
Servings per Container: 30 
Amount Per Serving %DV 
Anti-Catabolic Recovery 400mg ** 
L-Leucine, L-Isoleucine, L-Valine 
V Ripped Growth Factors  225mg ** 
3alpha-Hydroxy, Sarsaparilla 
Muscular Shredding Amplifier 325mg ** 
Dandelion extract, L-Theanine 
Fat Burning Amplifier 511mg ** 
Caffeine, Theobromine, Infinergy DiCaffeine Malate,   N-Methyltyramine, Vanadyl Sulfate.
**Daily Value (DV) not Established
Other Ingredients: Hypromellose, Magnesium Stearate, Silica, Chlorophyll
XABOL If you're serious about keeping your gains, you need a PCT (Post Cycle Therapy) that truly stands above the competition. Now from GenXLabs comes the ultimate PCT, packed with all of the ingredients such as Tribulus Terrestris, Arimistane, Tongkat Ali Extract, White Button Mushroom, and Milk Thistle you need to come off your cycle safely.
XABOL Supplement Facts
Servings Size 2 Capsules
XABOL Supplement Facts
Servings Size 2 Capsules
Servings Per Container: 30
Amount Per Serving % DV
Testosterone Enhancers 600mg **
Tongkat Ali Extract (longjack) 300mg *
Tribulus Terrestris Extract (std.min 45%) 300mg **
White Button Mushroom Extract 300mg **
Milk Thistle Extract (4:1)(seed) 225mg **
Chrysin (5,7-Dihydroxyflavone) 100mg **
Fadogia Agestis 75mg **
Nettle Root Extract (std. min 95% 3,4 divanillytetrahyuran) 75mg **

Hard Natural Body is a potent all-natural supplement that can make the difference between a strong body or a flabby, smooth appearance. Incredible results have been reported with the use of HARD NATURAL BODY.
Hard Natural Body Supplement Facts
Servings Size: 2 Capsules
Servings Per Container: 50
Amount Per Serving % DV
Pure Yohimbe Bark Extract 1000mg **
Saw Palmetto Berry 1000mg **
Mexican Mild Yam 100mg **
Orchic 500mg **
Muira Puama 500mg **
**Daily Values not Established
Other Ingredients: None