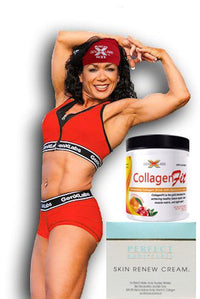 GenXlabs Women's Training Set with FREE Collagenfit, Beanie, and Skin Renew Cream
GenXlabs Women's Training Set with FREE Collagenfit, Beanie, and Skin Renew Cream 
Sports Short with FREE Zipped Front Sports Bra
Limited Offer Lycra Polyester 
Zip-up Front Makes this Sport Bra Easy to Put On and Take Off 
Lycra Polyester 
CollagenFit
Refreshing Zero Calories with 5250 mg Collagen Drink 
GenXLabs CollagenFit is vital in supporting healthy joints, youthful firm skin, lean muscles and athletic injury. 
Beanie
GenXLabs Hair Beanie's patent-pending design is going to be one of your favorite accessories especially on bad hair days, or keeping your hair dry and looking good during exercise. 
Skin Renew Cream
Perfect Body Parts Skin Renew Cream is specially created as an all over body moisturizing cream. This beauty cream is excellent for dry, cracked and tough areas such as leg, hands and feet. Fortify with vitamin E, Cocoa Butter, Jojoba oil Collagen and essential extracts for Stretch Marks and Skin Tone.