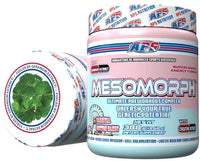 APS Nutrition Mesomorph 
PRE-WORKOUT COMPLEX 
Why do customers love to take it? Because of the awesome effects and benefits, it gives them.
Supplement Facts
Serving Size: 15.5 grams (1 Rounded Scoop)
Servings Per Container: 25
Amount Per Serving
Synthenox-Carnosine/Nitric Oxide Complex 6500 mg
Beta Alanine, l-citrulline DL-Malate 2:1, Arginine Alpha ketoglutarate.
Mesoswell-Cell Volumizing ATP Matrix 4500 mg
Di-Creatine malate, L-taurine, Creatine Nitrate, Ascorbic Acid, Creatinol-o-phosphate, Agmatine sulfate.
Neuromorph-Neuro Energized Stimulant Matrix 1860 mg
Glucoronolactone, Methylxanthine Anhydrous, Senegalia Berlandieri Extract (leaves) (yielding 200 mg Phenylethlamine Alkaloids including: B-Phenylethlamine, Methysynephrine, N-Methyl-B-Phenylethlamine, N-Methy-B-Methylphenylethlamine N,N-Dimethy Beta-Phenylethlamine) , Theobromine, Naringin (fruit), Isoprpropylnorsynephrine HCI
Ingredients: Malic acid, Natural and Artificial Watermelon Flavors, Acesulfame-K, beet juice powder, Silicon dioxide.