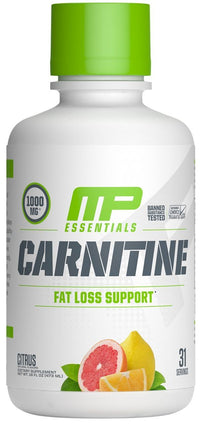 MusclePharm Carnitine Liquid 16 oz
MusclePharm Carnitine Liquid 16 oz
While the body produces carnitine naturally, many athletes supplement their intake. Raspberry ketones act as a natural energy booster for anybody on a low-calorie diet. 
Supplement Facts
30 Servings Citrus
Serving Size: 1 Tablespoon (15ml)
Servings Per Container: 30
Amount Per Serving Amt %DV
Carnitine Core Blend 1,000mg†
Acetyl-L-Carnitine, L-Carnitine Base, L-Carnitine-L-Tartrate, Raspberry Ketone, Propionyl-L-Carnitine
Other Ingredients:
Water, Natural and Artificial Flavors, Acesulfame Potassium, Sucralose, Beta Carotene (for color), Potassium Sorbate, Sodium benzoate, Magnesium Stearate, Microcrystalline Cellulose, Silicon Dioxide.