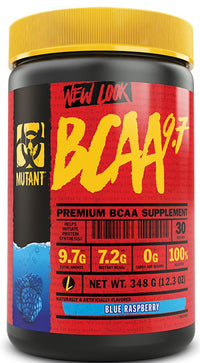 Mutant BCAA 9.7 30 servings
Mutant BCAA 9.7 30 servings
BCAAs in the Preferred 2:1:1 Ratio with Electrolytes!
9.7 grams of fully instant BCAA blend
8 added electrolytes
Finished off with a proven and patented absorption accelerator
MUTANT BCAA 9.7 delivers 9.7 grams of amino acids in just 1 concentrated scoop. Our BCAAs are in the preferred 2:1:1 ratio and then instant for superior solubility; with added Micronized Amino Support Stack; and finally magnesium. Magnesium contributes to normal protein synthesis. MUTANT BCAAs – beyond just normal BCAAs! 
Supplement Facts
Serving Size 1 Scoop
Servings Per Container 30
Amount Per Serving
% Daily Value*
Calories 0-
Total Fat 0 g 0%
Sodium 50 mg 2%
Total Carbohydrate 0 g 0%
Magnesium (as Oxide) 60 mg 14%
8 Electrolyte Blend 240 mg-
BioPerine (98% Piperine) 5 mg-
Mutant BCAA 9.7 Blend 9.7 g-
8 Electrolyte Blend
(Magnesium Oxide, Potassium Citrate, Sodium Citrate, Tricalcium Phosphate, Calcium Lactate, Sodium Bicarbonate, Calcium Citrate, Sodium Chloride.)
BioPerine (98% Piperine)
((Piper nigrum) (Fruit) (Absorption Agent).)
Mutant BCAA 9.7 Blend
(Instantized BCAAs 2:1:1 (L-Leucine, L-Valine, L-Isoleucine) 7.2g. Micronized Amino Support Stack (Taurine, Glycine, L0-Glutamine, L-Arginine, L-Tyrosine) 2.5g.)

* Percent Daily Values are based on a 2,000 calorie diet.

** Daily Value (DV) not established

Other Ingredients:
Malic Acid, MCT Oil (Fractionated Coconut Oil), Acesulfame Potassium, Sucralose, Silicon Dioxide, Sunflower Lecithin, Natural & Artificial Flavors, Color (Blue B1).

Contains tree nut (coconut). Produced in a facility that also handles ingredients from milk, wheat, egg, peanut, soy, tree nut (hazelnut).