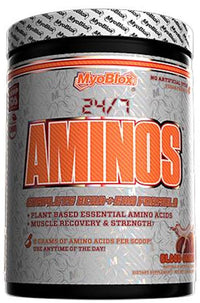 MyoBlox 24/7 Aminos 30 servings
AMINO ACIDS ARE A MUST-HAVE! They are building blocks of muscle and at MyoBlox with our core values in mind, sourcing the highest quality of amino acids available today is what makes 24/7 Aminos the best choice for amino acid supplementation. With 6 delicious flavors to choose from, we can guarantee you will absolutely love this new addition to the MyoBlox products! Use during and after the gym or any time of the day! Replenish. Rebuild. Recover.

OH, and you are going to love every single flavor of 24/7 AMINOS that you get your hands on!

Supplement Facts
Serving Size: 1 Scoop (10.7g)
Servings per Container: Approximately 30 Scoops
Amount per Serving 1 Scoop %DV*
Complete Essential Amino Acids
BCAA Profile
L-Leucine (fermented) 3,000mg **
L-Valine (fermented) 1,500mg **
L-Isoleucine (fermented) 1,500mg **
EAA Profile
L-Lysine (fermented) 885mg **
L-Threonine (fermented) 520mg **
L-Histidine (fermented) 335mg **
L-Phenylalanine (fermented) 140mg **
L-Methionine (fermented) 75mg **
L-Tryptophan (fermented) 45mg **

Absorption Matrix
Astragin (panax notoginseng from Astragalus Membranaceous [non-gmo]) 50mg **

Other Ingredients: Citric Acid, Malic Acid, Natural & Artificial Flavors, Calcium Silicate, Silicon Dioxide, Sucralose, Beet Juice Extract (For Color).