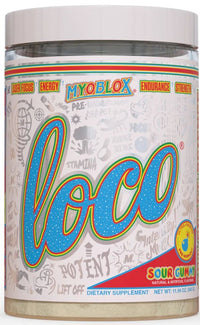 Myoblox Loco 25 servings
THE ALL IN 1 PRE-WORKOUT IS DESIGNED TO DELIVER!
LOCO is our all-in-one pre-workout supplement that packs a strong punch with 400mg of natural caffeine per scoop! Experience elevated energy, focus, intensity, and skin-splitting muscle pumps! We made sure we had sourced quality ingredients each in their respective doses of psychoactive, nootropics, and muscle primers that will launch your workouts to the next level every time you hit the gym. Don't waste money on crap that doesn't do crap, GO FKN LOCO. USE ONLY 1 SCOOP!
Supplement Facts
Serving Size: 1 Scoop (8.5g)
Servings Per Container: 40
B6 (As Pyridoxal-5'-Phosphate [P5P]) 2.5mg 68%
B12 (Methylcobalamin) 500mcg 208%
Loco Matrix
Citrulline Malate 3,000mg *
Beta-Alanine 1,600mg *
Nitrosigine (Inositol Arginine Silicate) 750mg *
L-Tyrosine 750mg *
Agmatine Sulfate 500mg *
Energy Matrix 610mg
Caffeine Anhydrous, L-Theanine, Adhatoda Vasaka Extract (1%) Alkaloids (Justicia adhatoda) (Leaf), Theobromine, Rhodiola Rosea (Standardized to 3% Rosavins, 1% salidrosides) (Root), Huperzine A 1%

Other Ingredients: Natural & Artificial Favors, Di-Sodium Phosphate, Maltodextrin, Malic Acid, Sucralose, Citric Acid, Acesulfame Potassium, Silicon Dioxide, FD&C Blue #1.