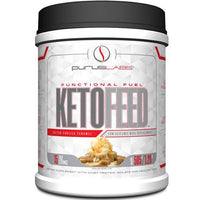 Purus Labs Ketofeed 1.3 lbs
Purus Labs Ketofeed 1.3 lbs
With KetoFeed, we knew that we had to up the protein intake for the average athlete. However, we didn't want the protein intake to be high enough to spike insulin levels and mess with the athlete's ability to keep shedding body fat.

We added 20g of high-quality whey protein, filtered to remove all sugar, and to make sure that the protein didn't mess with the athletes' fat-loss goals, we combined the protein with THE crucial component of the keto diet, FAT! MCT(medium-chain triglyceride) fat, to be exact.
Supplement Facts
Serving Size 1 Scoop
Servings Per Container 15
Amount Per Serving
% Daily Value*
Calories 170-
Calories from Fat 90-
Total Fat 10 g8%
Saturated Fat 5 g25%
Cholesterol 35 mg12%
Sodium 160 mg6%
Potassium 90 mg3%
Total Carbohydrate 0 g0%
Sugars 0 g-
Protein 20 g-
Calcium 98 mg10%
Chloride 180 mg5%
Magnesium 18 mg4%
Phosphorous 50 mg5%

Other Ingredients: Whey Protein Isolate, Spray-Dried medium-chain triglyceride powder [medium chain triglycerides (from palm kernel and coconut oils), sodium caseinate (a milk derivative), contains 2% or less of each of the following: silicon dioxide, sunflower lecithin], natural and artificial flavor, gum blend (cellulose gum, xanthan gum, carrageenan), sucralose, salt, acesulfame potassium. Allergen Information: Contains Milk and Soy.