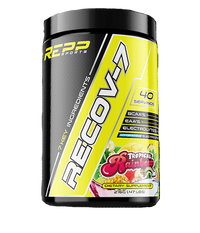 Repp Sports Recov-7 40 servings
RECOV-7 is a revolutionary complete recovery product featuring 7 key elements shown to aid in recovery, hydration, and focus. We start with the BCAA/EAA matrix.

The RECOV-7 BCAA/EAA matrix contains all 9 essential amino acids for optimal muscle recovery intra and post-workout.

Most BCAA products contain just 3 amino acids, but leave out the other 6 that your body needs and that play a crucial role in the muscle recovery process. We didn't want to cut any corners and wanted a product that produced maximal results, so Recov-7 includes all 9 to ensure peak recovery and performance.
Supplement Facts
Serving Size: 1 Scoop/ 2 Scoop
Servings Per Container: 40/20
Sodium 60mg 120mg
Potassium 25mg 50mg
Recov7 BCAA Matrix 3000mg 6000mg
L-Leucine, L-Lysine, L-Isoleucine, L-Valine, L-Threonine, L-Phenylalanine, L-Tryptophan, L-Histidine, L-Methionine
Recov7 Electrolyte Blend 200mg 400mg
Sodium Citrate, Sodium Chloride, Potassium Citrate, Potassium Chloride
L-Glutamine 250mg 500mg
Taurine 250mg 500mg
Coconut Water Powder 250mg 500mg
Choline Bitartrate 250mg 500mg
Other Ingredients: Citric Acid, Natural and Artificial Flavors, Malic Acid, Silicon Dioxide, Sucralose, Acesulfame Potassium, Maltodextrin.