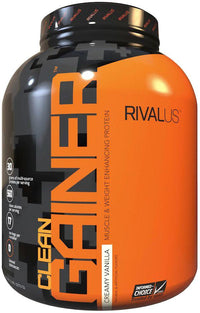 Rivalus Clean Gainer Protein 5lbs.
Rivalus Clean Gainer Protein 5lbs.
To pack on serious size, you need to consume more energy than you burn. A number of variables need to be factored in, but 3,500 calories per pound of added body weight is a commonly referenced estimate. True hard gainers may need even more. In a world of fast food, finding extra calories isn't hard. Getting quality, protein-rich calories to back-up your gym time? Now that's a different story.

With a killer combo of full-spectrum proteins, eight energizing carb sources, and essential fats, CLEAN GAINER is high-octane nutrition (over 560 calories worth) that fuels the intense needs of world-class athletes as well as those who aspire to be. Factor in the no-banned substances and it's a MASSIVE winner.

560 calories.

30 g dairy protein blend.

90 g eight-source complex carb blend.

Just 8 g of sugar.

Essential fats from flax, avocado, and sunflower.

Instantized to mix up quickly, fully, and easily.

No banned substances - safe for sport.
Supplement Facts 
5 Lbs. Chocolate Fudge
Serving Size 2 Heaping Scoops (136 g)
Servings Per Container 16
Amount Per Serving 
Calories 560 
Calories From Fat 60 
% Daily Value
Total Fat 7 g 11%
Saturated Fat 2 g 10%
Trans Fat 0 g 
Cholesterol 75 mg 12%
Sodium 350 mg 5%
Total Carbohydrate 90 g 34%
Dietary Fiber 2 g 7%
Sugars 8 g 
Protein 30 g 
Vitamin A 11%
Vitamin C 15%
Vitamin B6 17%
Vitamin E 20%
Calcium 16%
Iron 14%
Zinc 9%
Other Ingredients:
Clean Carbohydrate Blend (Glucose Polymers (Maltodextrin), Fructose, Organic Quinoa, Blueberry Powder, Ginger Powder, Monk Fruit, Organic Rice Bran, Oat Fiber), Clean Protein Blend (Whey Protein Concentrate, Whey Protein Isolate, Milk Protein Isolate, Micellar Casein), Clean Lipid Blend (MCTs, Flax Seed Powder, Avocado Powder, Sunflower Powder), Natural and Artificial Flavors, BCAAs (L-Leucine, L-Isoleucine, L-Valine), Salt, Sucralose, Acesulfame Potassium, Cane Sugar, Stevia.