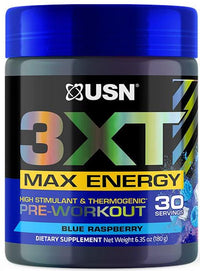 USN 3XT Max Energy Pre Workout 30 servings
USN 3XT Max Energy Pre Workout 30 servings
Developed to help provide you with maximum focus, energy, strength, and power levels needed to push you through each workout session. In addition to Caffeine, each scoop contains the patented TeaCrine (theacrine) and unique Tri-Yohimbe Complex (Yohimbine HCl, 11-Hydroxy Yohimbine & Alpha Yohimbine) to deliver unrivaled energy and focus experience.
Supplement Facts
Serving Size 1 Scoop
Servings Per Container 30
Amount Per Serving % Daily Value*
Caffeine Anhydrous 400 mg-
Betaine Anhydrous 1400 mg-
L-Citrulline DL-Malate 1:1 2500 mg-
Teacrine (yielding 24 mg of Theacrine) 60 mg *
Evodiamine [from(Evodia Rutaecarpa) Extract (fruit)] 7.5 mg *
Yombine (Pausinystalia yohimbine) (bark) Extract (std. to 8% yohimbine) 1.5 mg *
Rauwolfia vomitoria Extract (root) (std. min. 90% Alfa-Yohimbine) 0.5 mg *
Yombine Hydrochloride 5 mg *
Other Ingredients: Natural & Artificial Flavors, Silicon Dioxide, Citric Acid, Sucralose, Maltodextrin, Acesulfame K, Fully Hydrogenated Soy Oil, Sunflower Lecithin.
*Percent Daily Value (DV) Based on a 2,000 calorie diet.