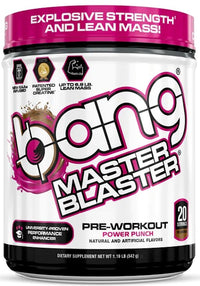 VPX Bang Master Blaster 20 servings
VPX Bang Master Blaster
If you're searching for something stronger than your average pre-workout, you're in luck! This product takes the term "pre-workout" to an all-new level. It is sure to keep your energy going during even your hardest training sessions. Its secular formula includes BCAA's will also help you lift & retain more during those sessions. Now introducing VPX Bang Master Blaster!
BANG MASTER BLASTER BENEFITS
All-In-One Formula

Contains 350mg Of Caffeine 
WHAT IS VPX BANG MASTER BLASTER?
VPX Bang Master Blaster is an all-new type of pre-workout. Bang Master Blaster is infused with patented water-stable Super Creatine. This product has already triggered a major shift among performance & bodybuilding figures across the globe!  
Supplements Facts
Serving Size: 1 Scoop
Servings Per Container: 20
Calories 4
Total Carbohydrate 1g 
Hydroxypropyl Distarch Phosphate 990mg 
Highly Branched Cyclic Dextrin 10mg 
Branched-Chain Amino Acids 7,500mg 
L-Leucine 3,000mg 
L-Isoleucine 3,000mg 
L-Valine 1,500mg 
L-Citrulline Malate 2:1 6,000mg 
Creatine Monohydrate 5,000mg 
Betaine Anhydrous 2,500mg 
Beta-Alanine 2,400mg 
Caffeine Anhydrous 350mg
Creatyl-L-Leucine [Super Creatine™] 250mg 

Other Ingredients: Natural & Artificial Flavors, Sucralose, And Lecithin.